At Wheaton Bible, we value our senior adults and prioritize a ministry space where you can grow in community, serve others and be served. Our goal is to support you through Bible studies, service opportunities, and regular gathering to have fun and fellowship together!
---
Seniors' Ministry Gatherings
Save-the-Dates for these Fun Fridays

April 14, 2023
June 9, 2023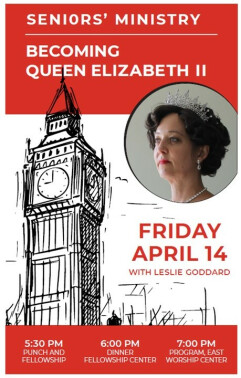 April 14, 2023 - A Royal Event: Becoming Queen Elizabeth II with Dr. Leslie Goddard


It is going to be a royal evening for our Seniors' Ministry at Wheaton Bible Church this spring. Historian and author, Leslie Goddard, will portray Queen Elizabeth II through her years as Queen; from the hard times of war & family troubles to the majesty of England during the 20th and 21st centuries. The dinner will include some appropriate delicacies that were among the Queen's favorites.

We hope you will join us and perhaps bring a friend. Ladies are encouraged to wear a hat in honor of the Queen. We look forward to seeing you as we celebrate and learn more about one of the most remarkable women of our time.

The evening will include:
5:30-6:00 pm Punch Reception
6:00-7:00 pm Dinner
7:00-8:00 pm Program
Tickets are $10 per person and are available using this link. You may also purchase tickets in your Adult Community class or at the Welcome Desk. Tickets will be available until Tuesday, April 11 at noon or until they are sold out.
TICKETS

For more information contact:
Gail Jones or 513.646.9544
Christine Walraven or 630.876.6653
WBC Welcome Desk 630.260.1600
Join a Group
Senior Men's Bible Study

Senior Women of Faith Bible Study

Maturing men who gather weekly
to know God better.

Gather with other senior women and
enjoy a great discussion.

Thursdays
9:00 - 10:30 am
Thursdays
9:00 - 10:30 am
Learn More
Learn More