The Senior Women of Faith group of Wheaton Bible Church is where women ages 55+ come together to study God's Word, encourage one another, fellowship, and pray. Gather with other senior women and enjoy a great discussion.
Upcoming Events
Scheduled for Fall 2023


Thursday mornings, 9:00-10:30 am, September 14 - December 14
Hebrews: The Supremacy & The Sufficiency of Christ, by Dr. David Jeremiah
The letter to the Hebrews is a powerful account of Christ's supremacy and faithfulness. Built on a foundation of Old Testament Scripture, Hebrews reveals how Jesus is superior to anything the old law had to offer—how Jesus accomplished what the old covenant could not by offering himself as the one and perfect sacrifice to atone for the sins of his people.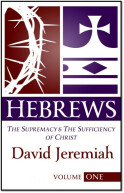 Cost: $10
Includes Bible Study materials.
ONLINE Registration is now closed. Come and join us! Sign up at the door.
Questions or scholarship requests: contact