Fall Precept Bible Study
Gather with women, enjoy teaching time and a great discussion. Together we will know God deeply and live differently.

Thursday mornings, 9:15-11:30 am
Room 55
September 14 - November 16, 2023
Psalms Part 1: The Lord Hears When I Call by Kay Arthur and David Arthur
With straightforward instructions and step-by-step guides, the Precept Bible Study Method is for anyone who wants to know God's Word deeply, and live differently. In this 10-week study of Psalms, we will learn about God - His attributes, what pleases and displeases Him, His relationship to the righteous and the wicked, and His revelation of the future.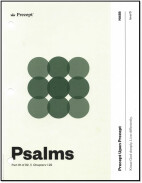 Weekly homework: 1½ - 2 hours hours.
Cost: $12 - includes all Bible study materials.
Questions or scholarship requests: contact