Place4You is a vibrant, dynamic Bible study experience that includes personal study, Bible teaching, and a small group experience for discussion and developing richer relationships. It is our largest study with identical sessions on Tuesday evenings and Wednesday mornings. Experience large-group teaching, small-group discussion, and approximately two and one half hours of homework each week.
2023 Fall Study
Tuesday Evenings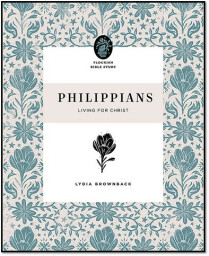 Philippians: Living for Christ
by Lydia Brownback

The apostle Paul suffered intensely for his faith, but despite the danger and pain of his story, his letters are filled with hope―hope rooted in the good news of the gospel. In this study, we will explore Philippians together and see how even in the face of persecution and other difficulties, there is abundant peace through unity in Christ and the indwelling of the Holy Spirit. This study helps us focus on God as the source of our joy when life threatens to sidetrack us.

We will begin this study on Tuesday, September 12 from 6:30 - 8:30 pm. The Fall semester will continue through Tuesday, November 14.
ONLINE REGISTRATION is now CLOSED. You are welcome to come join us and register in person on Tuesday evenings at 6:30 pm!
Questions or scholarship requests: contact